Children ages 5-11
COVID-19 vaccination for children 5 to 11 years old has been approved
Updated: January 14, 2022
Health Canada has approved the use of a pediatric Pfizer vaccine for children aged five to 11. Learn more about Health Canada's approval of vaccines for youth ages 5-11.
COVID-19 vaccination for ages 5-11
Vaccines are the most effective tool we have to protect ourselves and our loved ones from COVID-19. Vaccines protect us by helping our body build immunity and decreasing our chance of spreading it to others. We have seen the positive effects vaccination has had against COVID-19 in the fight against this pandemic.
The pediatric Pfizer-BioNTech (Comirnaty) COVID-19 vaccine has been approved for youth aged five to 11 in Canada. It is safe and effective for this age group. It is important for your child to get fully vaccinated to have the best protection against COVID-19. Children must be five years of age or older on the day of their COVID-19 vaccine appointment.
It is recommended that children 5 to 11 receive two doses, 8 weeks apart for optimal and longest lasting protection. As per NACI guidance, a longer interval between dose one and two appears to provide optimal protection and may reduce the risk of myocarditis/pericarditis after the second dose of an mRNA COVID-19 vaccine. However, the authorized interval (e.g. greater than 21 days) may still be used with informed parental consent.
Read the joint letter from Huron Perth Primary Care Providers for more information and answers to common questions about vaccinations for kids five to 11 years old.
Booking your appointment
Appointments are now available for children ages 5 to 11 at HPPH clinics. Visit our Vaccine Booking page to book an appointment. Clinics are available for anyone eligible to receive their COVID-19 vaccine, including those aged 5 to 11.
All clinics will offer a family-friendly environment. Each vaccinator station will have distraction tools available, and you/your child(ren) will have the option to be vaccinated in a semi-private tent. We also recommend parents/caregivers bring something along to help their child relax during their appointment, such as headphones and music, a toy, or a fidget.
Preparing your child to get vaccinated
For information on HPPH COVID-19 vaccine clinics, how to prepare, and what to expect when you arrive at a clinic, see our Preparing for your appointment page.
Being nervous about needles is common. If your child is anxious about receiving a needle, or they have fainted or become dizzy with immunizations before, please let the vaccinator at the clinic know. We want everyone to feel comfortable and safe.
Talking to your children about vaccinations can help to reduce anxiety they may have about getting needles.
The CARD System
You can use the CARD (Comfort, Ask, Relax, Distract) System [PDF] to come up with ideas and a plan to help relax before and during a vaccination. Talking about vaccines with your child now can help prepare them for when a COVID-19 vaccine is available to them.
Comfort | find ways to be comfortable

Validate your child's worries. Talk with them about ways to relax and feel comfortable.
Explain what is happening when you are at the clinic.

Ask | ask questions to be prepared

Answer any questions your child might have; the vaccinator can help with this.

Relax | keep yourself calm

Model relaxation for your child by talking in a calm tone.
Take some deep breaths with your child.
Talk about ways to relax before your appointment.

Distract | shift your attention

Distraction can help with reducing pain and anxiety when receiving a needle.
The most effective distraction requires thinking and doing (some distraction tools are available at our clinics and may be used by our vaccinators).
Calm slow steady talking from one person can be helpful.
To access the CARD system resources in French, visit the AboutKidsHealth webpage.
See the Ministry of Health's COVID-19 Vaccine Information Sheet for Children (age 5-11) for more information and make sure all of your questions have been answered by a health care provider before your child gets the vaccine.
What to bring to your appointment
Please do not come to the clinic if you or your child have COVID-19 symptoms or are sick, have been told to isolate, or are waiting for COVID-19 test results. Please reschedule your appointment.
Bring your child's health card with you, if you have one, or another piece of identification.
Wear a clean mask and a short sleeve shirt.
Think about what helps you, or your child, to relax and bring it! (e.g. headphones and relaxing music, a fidget, or a toy.) Check out the CARDs tips above to help you prepare.
Show up on time, rather than coming early.
Bring something to keep your child busy and distracted while you wait your 15 minutes (e.g. videos, a toy, or a colouring sheet). Note: we will have some activity sheets available at the clinic.
Fill out the COVID-19 Client Information Sheet (consent form) and bring it with you. There will be forms available at the clinic you can fill out when you arrive too.

Please ensure that consent forms are signed by a parent/legal guardian. The person accompanying your child to their appointment must also be able to answer the pre-screening questions on the last page of the consent form.
Before receiving the vaccine, tell your child's vaccinator
Before your child receives the COVID-19 vaccine, tell the vaccinator at the clinic if your child:
Has any allergies or had an allergic reaction to a previous COVID-19 vaccine dose or another vaccine.
Is immunosuppressed due to disease or treatment or has been diagnosed with an autoimmune condition.
Has ever fainted or became dizzy after getting a vaccine or a medical procedure, or has a fear of needles.
Has a bleeding disorder or are taking medication that could affect blood clotting.
Please do not come to the clinic if your child is currently feeling sick or has any signs and symptoms of COVID-19.
After vaccination
The side effects after receiving a vaccination are different for every person, and most are mild. Some mild side effects may occur after getting the COVID-19 vaccine, including: pain, swelling or redness at the injection site, tiredness, muscle soreness, mild fever, chills, vomiting, diarrhea, joint pain, or headache. These side effects are normal signs that the body is building protection, and generally clear up within 1 to 3 days.
Serious allergic reactions (anaphylaxis) to the vaccine are rare and can be treated. Your child will be monitored at the clinic for 15 minutes after receiving their vaccination. Get medical help immediately if your child has serious drowsiness, seizures/convulsions, trouble breathing, or develops hives or swelling in their face or throat, chest pain, shortness of breath and/or palpitations (pounding or racing heart), or feelings of an abnormal heart rhythm.
If your child has a high fever (over 40°C or 104°F) or side effects that are worrying you or do not seem to be going away after a few days, contact your child's health care provider or seek medical attention right away.
Frequently asked questions
Why should youth get vaccinated?
Vaccines are the best protection we have against COVID-19. COVID-19 vaccination protects us and our kids from severe illness, by helping our body build immunity.
Most young people who contract COVID-19 have mild symptoms or none at all. However, some children with COVID-19 can get very sick, and others may experience more serious, longer-lasting symptoms that effect their health. We are still learning about this, what is being referred to as "long-COVID."
Children can also spread COVID-19 to others, even if they have no symptoms or mild symptoms. By vaccinating youth, we can help protect their health as well as the health of other people who may be vulnerable to severe illness. The more people who are vaccinated in our community, the better chance we have to reduce spread and keep our schools, daycares, businesses, and recreational activities open.
We have seen an increase in cases among this age group over the past three months, and vaccination can help prevent further spread of COVID-19 in our community.
How are vaccines approved?
The vaccine has been approved by Health Canada, which means that they have determined that this vaccine is safe, effective and manufactured to the highest quality.
Health Canada only authorizes the use of a vaccine if the independent and thorough scientific review of all the data show that the benefits of the vaccine outweighed any of the potential risks. Learn more about Health Canada's Vaccines for children: COVID-19.
What are the vaccine ingredients?
The vaccine contains fats, salts, sugars and buffers.
The vaccine is safe, even if you have food, drug or environmental allergies
Talk to your healthcare provider or allergist first if your child is allergic to polyethylene glycol (PEG).
What are the side effects?
Just like adults, youth may experience temporary side effects. The side effects after receiving a vaccination are different for every person, and most are mild. Common side effects are sore arm, tiredness, headache, achy muscles or joints, and fever and chills. These side effects generally clear up within 1 to 3 days. They are also a positive sign that the vaccine is beginning to work.
Are there potential long-term effects?
At this time, there is no data that shows any negative long-term effects from the COVID-19 vaccine.
Using an mRNA vaccine is not new vaccine technology. Scientists have been studying and working with mRNA vaccines for decades, including for flu, Zika, rabies, cytomegalovirus (CMV), and cancer treatments. Decades of studying mRNA have shown no long-term side effects.
Any vaccine side effects tend to happen in the first 6 weeks, and regulators in many countries required at least eight weeks of safety data. The vaccines for adults have now been in use for many months with billions of doses administered around the world.
How many doses does my child need? How far apart are the doses?
Similar to individuals 12 and older, children ages 5-11 will need two doses. Children ages 5-11 should receive a second dose at 8 weeks apart for optimal and longest lasting protection.
More data has become available that suggests that protection can be improved upon when the interval between the first and second doses are extended beyond the original manufacturer's recommended interval (e.g., 21 days between first and second dose of a Pfizer-BioNTech COVID-19 vaccine).
As per NACI guidance, there is emerging safety data that suggest that a longer interval between dose one and two may reduce the risk of myocarditis/pericarditis after the second dose of an mRNA COVID-19 vaccine.
These intervals appear to provide optimal protection while simultaneously minimizing the time at risk of infection due to having protection from only one dose.
However, the authorized interval (e.g. greater than 21 days) may still be used with informed parental consent.
Can my child receive another vaccine, like the flu shot, around the same time?
If possible, children ages 5-11 shouldn't receive the Pfizer-BioNTech vaccine within 14 days of other vaccines, such as the flu vaccine.
This is a precaution to monitor any side effects from the COVID-19 vaccine or another vaccine.
In some cases, your child's health care provider may recommend a vaccine that's needed urgently. This may happen even if your child has received the COVID-19 vaccine in the past 2 weeks.
Adults and youth aged 12 to 17 may receive a COVID-19 vaccine at the same time or any time before or after, other vaccines.
My child is 11 years old. Should they wait until they are 12 to get an adult dose of vaccine?
Given the current rate of transmission in our community and for the best protection against COVID-19, children should get the first COVID-19 vaccine that is available to them now.
Children who receive the 10 micrograms (mcg) paediatric Pfizer vaccine for their first dose and who have turned 12 by the time their second dose is due may receive the 30 mcg ('larger'/adult dose) Pfizer vaccine that is authorized for individuals ages 12 and older to complete the vaccine series.
It is important to remember that vaccine dose is based on age, not weight. Your child will receive the vaccine dose that is currently authorized for their age.
Will the vaccine affect my child's future fertility?
There is no evidence and no theoretic reason to suspect that the COVID-19 vaccine could impair male or female fertility.
In response to the online rumours suggesting that COVID-19 vaccination may affect future fertility, the Society of Obstetricians and Gynecologists of Canada (SOGC) released the following statement:
There is absolutely no evidence, and no theoretic reason to suspect that the COVID-19 vaccine could impair male or female fertility. These rumours are unfounded and harmful. The widespread social media concern stems from misinformation about the similarities between syncytin-1 (used for placental implantation) and the SARS-CoV-2 spike protein. While the two proteins have several similar amino acids, they remain vastly different. The antibodies produced against the SARS-CoV-2 spike protein would not have cross-reactivity with syncitin-1.
I still have questions about the vaccines
Talk to your doctor or nurse practitioner about any questions you might have. The following service is also available:
The SickKids COVID-19 Vaccine Consult Service is a by-appointment phone service that provides a safe, judgement-free space to have an open conversation about the COVID-19 vaccine for children and youth. It is available in multiple languages, using over-the-phone language interpretation.
Additional information about COVID-19 vaccinations for kids can also be found by visiting the Kids Health First webpage, or on the Province's webpage COVID-19 vaccines for children and youth.
Vaccine safety information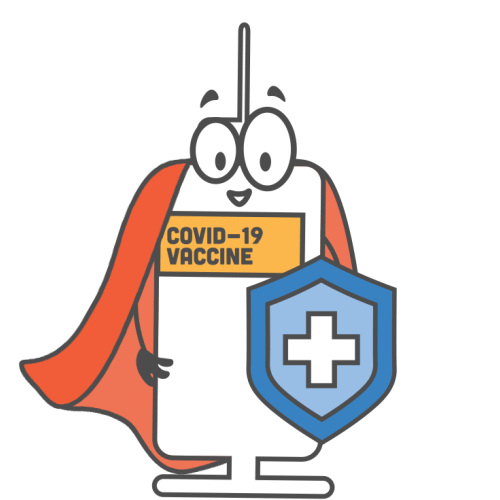 The Max the Vax Campaign has been created to provide caregivers, and the children they look after, reliable information to make educated decisions about being vaccinated against COVID-19. It has been developed by a team of Canadian physicians, scientists and health care providers to share trusted, evidence-based content about COVID-19 and vaccines.
Max Facts for Caregivers: learn about the COVID-19 Vaccine for 5 to 11 year olds [PDF]
Max Facts for Youth: learn about the COVID-19 vaccine for 5 to 11 year olds [PDF]